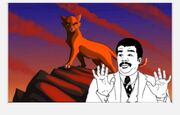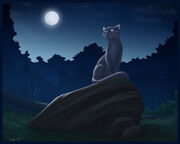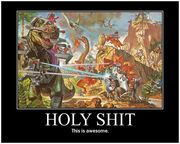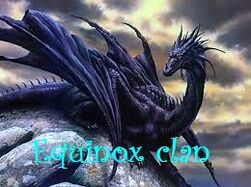 Hey yall it's me your favorite cat in the world xD. Anyways here is some infro about our great clan Equinox!
~ Legend MoonStar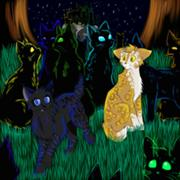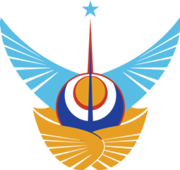 LE BOXES BE FEARED I:U
Description: We are a peacefull loving clan, and we do allow other clans on our territory so long as  they dont hunt, claim, or cause trouble. Just because were so peacefull...dont think were weak. We are strong and loyal to eachother too. So if you mess with one of us, you mess with All of us. We are feirce and have razor sharp claws ready, just in case.
Newz: Derpeh along with other catz joined :P were growing more each day.
Cats in le clan: 80 - 90
Other: None I:U
Warrior Cats of Equinox Clan was made by StarCast Eclipse in the late end of new leaf. Star was born as a Shadow/Angel wolf and became a clan leader. She made this clan with pride and honor. We do magic in this clan and yes we are part wolf. But we are one of the strongest clans in the Realms.
Ranks & about them
Edit
Leader: StarCast Eclipse
Gender: She-cat/wolf. Blue fur daggered with Black Stripe and has white blue tipped wings. 
Kin (in clans): Christopher Foxface, LegacyStar Eclipse, Legend MoonStar
Kin (From wolf side): Worgen Jake, Feather, Caroline, Shadowmere, (ill add more later) o-o
Description: was once a leader of Wolves of Constellations. Joined in to the clans and made Equinox Clan.  Shes is also head leader of all magic! 
Deputy: BreezeflighT
Top Med: SwiftClaw
Allies: Forest Clan, Rose Clan, Eclipse Clan, NightFury Clan, WhiteCloud Clan, Shadow Clan, Pine Clan, Polar Clan, DarkBlaze Clan, Lightning Clan, DarkMist Clan, Thunder Clan, MoonFall Clan, NightFall Clan, WhiteThunder Clan, Frost Clan, LightWave Clan, Falcon Clan, SnowyMist Clan, Aurora Clan, Dawn Clan, Night Clan, DarkTwilight Clan, Blacksun Clan, Prism Clan, Pine Clan, The Light Clan, Tear Drop Clan, Vapor Clan, Frozen Moon Clan, BloodClaw Clan, SkyFall Clan, Leopard Clan, DarkHollow Clan, Rose Clan, Bracken Clan, Hidden Echos Clan, Amythst Clan, ToxicAir Clan, Poison Ivy Clan, GoldenFlame Clan, BloodyMoon Clan, EXTRA....... 
Enemies: DarkMoon Clan
Ad blocker interference detected!
Wikia is a free-to-use site that makes money from advertising. We have a modified experience for viewers using ad blockers

Wikia is not accessible if you've made further modifications. Remove the custom ad blocker rule(s) and the page will load as expected.